Okay so this other site is where I got the new dough recipe from that I made on Monday for Tuesday. It was supposed to sit for 24 hours.

White Whole Wheat Pizza Dough Recipe


Okay so it was really great! Even better than the last. Isn't that what I always say? each recipe is better than the last. lol His recipe calls for 3 cups of flour for one big dough ball. I wasn't sure how much it would make because we like to make 3 and freeze 3. So I made 4 big dough balls. I took two out and figured I would split them in half.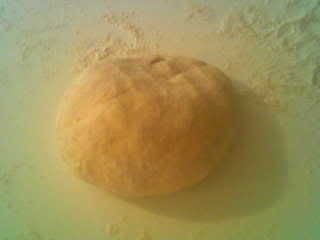 Here is one dough ball:


Now we have the pizza machine, but it can only cook one pizza at a time. So I took one dough ball and cut that in half. Made that pizza(Kass helped with toppings).



I dusted the dough with a little flour and lots of corn meal on the stone.




Here is how that turned out. Yeah I know dd#1 was dropping toppings all over the table.





Then I split the next half in half again cause I just bought 4 new round cake pans. I took two out, melted butter and brushed 2 round pans. That half dough was enough for two of the round pans.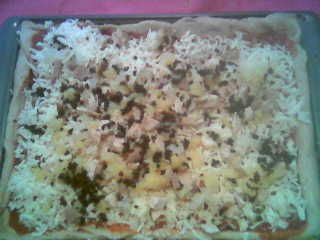 I also have a huge rectangular shaped cookie sheet. I melted butter and brushed that pan as well. I took the last dough and we put that on this pan. I am thinking maybe there would of been enough dough from this for one more cake pan. Cause that pizza came out thicker than the deep dish rounds even! The first dough was enough for one big round and two cake pans.




Look at that crust on the deep dish round!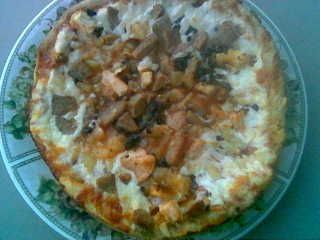 The brown meat is turkey sausage





This is the side view.


The two round deep dish ones were really good. I am going to use this recipe again next time. The brushed butter was just enough for a crispy crust but not greasy. I liked that crust better than all the other past crust. Isn't this what I always say? lol I didn't try the pizza on the pizza maker and the rectangle one looked good too but I already had 3 small slices of the deep dish and was full. That is one thing about the whole wheat. It fills you up faster than white flour.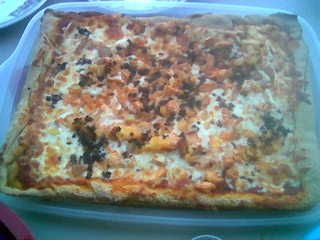 This is a pic of the pizza from the huge cookie sheet.


Basically we wound up with ALOT of pizza! Like twice as much as we needed and there is still 2 dough balls in the fridge. haha Maybe one dough is enough for one night.

Have you ever made deep dish pizza? What is your favorite kind of crust?