So I made up 3 batches of chocolate chip muffins yesterday. Now if I can just keep the kids out of the fridge and freezer we will have enough for a while. Yeah right.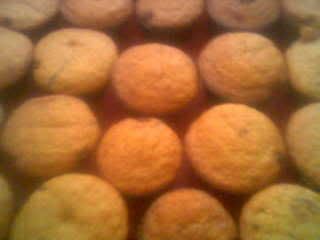 I had 2 snack cakes yesterday. They were really good. When I woke up this morning I feel like they stuck to my ribs already. No muffins for me! haha I usually keep treats to a minimum, good thing I don't have much of a sweet tooth.




Where are all the chocolate chips? I think I can see one. They all melt inside of the muffins. Them and the blueberries fall to the bottom. What kind of muffins do you like to make?